Jako De Leon live on Radyo Katipunan 87.9 FM to talk about his journey on creating content
RECAP: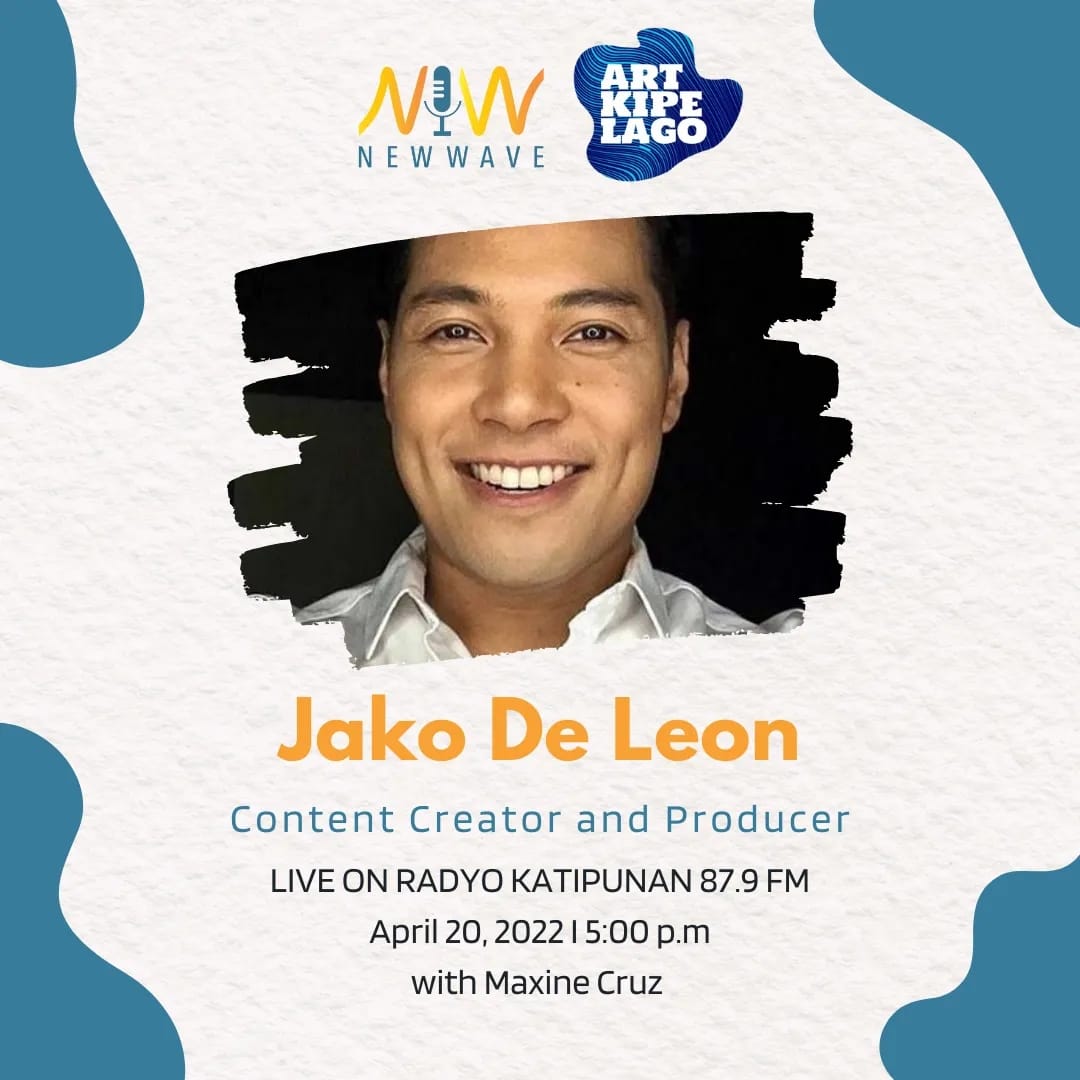 April 20, 2022 - In partnership with Artkipelago, Radyo Katipunan 87.9 FM's host Maxine Cruz sat down with Jako De Leon in a livestream to talk about his life in Ateneo, his journey as a Content Creator and producer, as well being a mentor now through a course in Artkipelago. If you missed the 1 hour and 41minutes lesson-filled livestream, you may rewatch it on Radyo Katipunan's Facebook page, Twitter, and Youtube channel.
Radyo Katipunan 87.9 FM is the official campus and community radio station for the Ateneo campus and nearby communities of Loyola Heights. And they are in partnership with Artkipelago, an online educational platform where creatives of all skill levels can find various courses, webinars, and workshops taught by experts with a proven track record of success in the industry. Artkipelago was founded by music expert Twinky Lagdamaeo, software developer and live event organizer Jay Adlao Block, music executive Ian Monsod, and composer Gina Tabuena-Godinez.
Who is Jako De Leon? Jako Raphaelle de Leon is an experienced content creator, and producer who also offers consultancy to other creators and companies. He was born and raised in the Philippines and attended school in Ateneo, which makes this feature in Radyo Katipunan a very fitting setting. A few of Jako's well-known works would be his brainchild, Bogart the Explorer, as well as being Wil Dasovich's manager. It seems that being uber creative runs in the family, given that his father is Eat Bulaga host Joey de Leon.
Recap of the livestream:
Jako and his life in Ateneo
Jako shared his humble beginnings when they went down memory lane, back to his experiences in Ateneo where he took psychology as a pre-med course but was still able to pursue creative ventures through his extracurriculars.
He recalled how studying at Ateneo, being able to experience his college life with his classmates, friends, colleagues, and mentors, and being driven by the core values being taught there, such as being God fearing, helped shape him to become the well-rounded individual that we know today. This also led to a conversation regarding empathy and the importance of empathy in working in the industry.
The difference of TV and Social media - Importance of knowing your audience
Jako mentions that the difference between TV and Social Media is how the audience is found and reached. In TV you find the audience, whereas with social media your audience finds you. And so being empathetic will help in building that relationship with your audience. It is important that you build a connection with them.
By this time Jakob starts, Jako's son, makes an appearance in the live, or rather his voice, which is just too cute not to mention.
Importance of being well rounded
Jako mentions that it is essential to be well-rounded if you want to work in digital.
"In digital, you have to know a multitude of things because for most people you're the producer, you're the creator, you're the talent, you're the cameraman, the cinematographer, everything".
Jako's thoughts on digital media competing with traditional media
Jako wanted to focus on the argument with regards to the competition between digital media and traditional media. We all must have heard the phrase Youtube is killing tv or something similar to that. For Jako, they are not competing but more on coexisting. He says that digital media is not taking anything away from traditional media. His examples to explain this would be how celebrities cross platforms from tv to online, how long format tv dramas and shows are made available online through streaming services such as Netflix.
He mentions that the viewing pattern of the person may change, but the content will be the same, whether it be long form or short form. This is also why content is king.
So there's no competition, but rather having a bigger and larger space for all types of content to fit in. Maxine also agrees and shares how she enjoys to view content both in traditional media and digital media.
Jako on transition from pre-med to digital content creator
Jako shares how he continued his studies in the US with the course psychology as his pre-med. But while doing so he was also in a band and did a lot of extracurriculars such as theater which he really enjoyed doing. He continued up to the point where he was working in hospitals. Then one time, a mentor of his asked if he wanted to do photography, and of course he said yes to. From there he realized that he wanted to be a creative.
Jako then started to work for a traditional marketing agency where he created art and other creative campaigns.
Jako on Psychology and being a creative
Jako brought up that one time in an interview where he was asked what he could bring to a creative firm when his background was his psychology course. He answered that his psychology studies work well with being a creative because of how he was able to recognize patterns and analyze behaviors. This can also be applied to any course or field that may not be directly related to a creative career but then still requires doing problem-solving.
Lessons from his mentors
Some of the lessons Jako had learned from various mentors would be, "Do what you love and you'd be successful", "If you're doing what you love, it's not work", "You can make a living doing what you love". And these exact lessons inspired him to be a mentor himself through his course with Artkipelago.
When does mentorship play a role in someone's growth?
Jako mentions how he loves being a mentor and that it makes him feel whole. He said that he just wanted the best for people and leaving them in a better state than when he found them. He shared how when he met Wil Dasovich, he only had 8000 subscribers, but Jako believed in him and thought that what he was doing was amazing, and so now Wil Dasovich has reached millions of subscribers, and now has a podcast. Jako also told the story of Bogart, where he used to be a PA for their tv show and now he is a huge internet sensation.
Why did he want to do an "Intro to content creation" course? What's in the course?
Jako shares that what he wanted to drive out in his course is for people to understand what content creation is all about. The fundamentals. Because he knew a lot of people who went into content creation who didn't know the fundamentals that got burnt out, and that they weren't happy, which should not be the case. The course will not only contain the knowledge that he has gathered throughout his experience, the basics, the step-by-step of creating a brand or the different types of content that can be made, but as well as having the right mentality when going into content creation.
What is the key to longevity?
Jako mentions these two things: Some people are in love with the destination while some people are in love with the journey. He says that you have to be in love with the journey, because then you will keep walking, compared to someone who is in love with the destination but would then feel lost once they have arrived there. But of course you also have to have an idea where you want to go, and not walk aimlessly.
The key to longevity is to love both the journey and the destination.
"No matter what happens, if you're doing what you love, you will do anything to make your dreams happen" - Jako on what he learned from Tony Cabrera
Artkipelago's dedication to the creative community
Jako mentions how wonderful Artkipelago, and the people who has built it, is for being a space wherein you can be anything you want in the creative field as well as showing the people that being in the creative industry is a valid career choice as any other type of traditional careers such as being a doctor, lawyer, etc.
Who do you see taking the courses?
Jako mentions that the course is for everyone, whether you are an expert already or just starting out.
Is Jako's course interactive?
Jako explains that right now it's video on demand. But he would love to be able to teach live and in person soon.
What makes good content? What makes a good content creator?
Jako shares that there is some self serving when it comes to content creation, but if you are more selfless about it, when you make content to make people happy because that's what you love doing, then that makes you a good content creator. For what makes good content, he has what he calls the 5 C's in content creation which would be available in his intro course. But one of the C's would be consistency.
"Necessity is the mother of invention"
- Jako on creating content as a business
" Content creation comes from inspiration, content creation comes from necessity, both of them will give you something. And, you know, ideally, the necessity part shouldn't be a thing. But that's what a lot of content creators have used as a battle cry, right? A lot of content creators are from multiple parts of the country. All they have is a phone, and internet. And that's it. Right? And they're able to build lives, they're able to build, you know, careers out of it. And so that's what I love about it the most, I guess, is that anyone who's anyone can be somebody on this platform." - Jako on creating content as a business
What do you want to do in the future?
Something that Jako has not done but wants to do is to create a full-length film
What's something you tell yourself or other people who get burned out?
Jako mentions a huge part of his course is "finding your why". He says that finding why you started will also create an avenue for you to finish what you started.
"You have a vast amount of creativity and space. And you were limited by whatever problems, burnout, whatever, that's where you find yourself best. And it's in the darkest of skies, where you see the brightest of stars. That kind of mentality."
- Jako on burnout
Jako on Wil Dasovich's journey
Jako shared Wil's story where his goal was to reach 100,000 subscribers and that he worked really hard to get there. But when Wil reached his goal, instead of celebrating, he felt really sad and lost because now he doesn't know what to do next. Jako then goes back to the lesson about the importance of loving the journey, not just the destination. Because falling in love too much with a goal might be a problem because once you get it then what's next?
Jako on why he did what he did (for Wil and Paperbug TV)
"The paths we paved are now streets with no names. But like, that's, that's what I did it for. I did it because there was no path. Because when we started, no one was doing content, no one was doing what we did. And when we saw the top of the mountain, we rushed down to tell people what's up there, you know, and if we couldn't get up any more, that's fine. We've seen it"
How can the youth be responsible with their social media platforms?<.b>
Jako explains that in using social media, most of the time we are funneling in and are only communicating with people who we want to talk to. What we need to do is to reach out with intent to do so, to listen and communicate with other people and not create any more division.
"Build more bridges and breakdown more walls"
- Jako on being responsible for your audience in social media
Conclusion
Jako ends the livestream by thanking Radyo Katipunan New Wave, Maxine the host, Twinky the founder of Artkipelago, and wishing everyone a great and hopeful year.
To enroll and learn more about Jako De Leon's Intro to Content Creation coursel, you may refer to this page
https://www.artkipelago.com/courses/shine-online-intro-to-content-creation
And to learn more about Artkipelago, their courses and programs, as well as the list of mentors they have on their roster, simply go to
https://www.artkipelago.com/